10 of the Best Independent Skate Shops in the UK
Skate Shop Day 2023 was a massive success all around.
What's Skate Shop Day? Find out here.
Bigger and better than the year before, SSD is on a roll and the hype seems to be building, with some huge brands getting on board with providing products exclusively for skate shops. The Vines was involved in the first-ever run of Skate Shop Day T-shirts which featured the logo of 44 of the best independent, skater-owned shops in the UK.
We wanted to highlight some of our favourite skate shops to share the community love. The following have their names engraved into UK skateboarding and continue to provide products, opportunities and hubs for the UK skateboard scene.
Ideal Skateboards - Birmingham
Ideal, ran over the years by Zippy, Kris and Bob was our local skateshop growing up. But we aren't the only ones... Ideal has been helping the Birmingham skate scene grow since 1991, moving a few times around the city centre and Digbeth.
The shop's always felt a bit magic, especially when you and your scruffy teenage mates are new to Brum City Centre. After all these years, the magic's stronger than ever. You'll find some Birmingham skateboard history hidden in plain sight around the shop, and you're guaranteed helpful, friendly service to get you rolling.
Ideal have supported and hosted some legendary jams and brand tour trips implanted in many Midlands skaters' brains. They've also helped develop some incredible skateboarders and continue to this day.
Get down Digbeth and check them out
Welcome - Leeds
Welcome Skate Shop are Leeds skate HQ, holding a huge range of hard-to-find, premium skate brands. They have a beautiful store stacked with goods. They're loved by many and have a really easy-to-navigate website.
Leeds has some great spots and scene, check out the shop if you're near by
Altar - Dartford
Dartford have an incredibly impressive deck wall and general layout to their shop. Starting from the back of a car, the skater-owned shop has provided Dartford and surrounding areas a skate hub since 2010. Independent, skater-owned skate shops like Altar are invaluable to the scene, have a mooch about their website and you're guaranteed to end up with something in your basket. Owned by Chris Chambers (a legend in the game), anything these guys dont know about skating isn't worth knowing!
Fifty-Fifty - Bristol
Established in 1997 by Danny Wainwright and Justin Sydenham, Fifty Fifty has grown into one of the UK's most respected streetwear and skateboard stores. The creative city of Bristol has been lucky enough to have these guys for a quarter of a century. As the popularity of skateboarding dipped up and down over the years, Fifty Fifty has stayed the kingpin of the Bristol community.
A walk or skate around Bristol is never boring, a visit to Fifty Fifty adds to the fun.
Lost Art - Liverpool
The scousers' paradise has a unique feeling around it. Located at the top of a pub... what more could you ask for? After being buzzed up, you'll be greeted by friendly faces and usually a very skilled skateboarder. Dug deep into UK skate culture, everyone involved with Lost Art is a creative.
Lost art have a great selection of their own decks and merch to check out. If you're in windy, wet Liverpool and fancy watching some skate videos and learning more about the city, check them out.
Decimal - Cirencester
Cirencester is well worth a visit. In the beautiful scenery of Gloucestershire, there's a mega-sick skatepark and an even better shop. Decimal, founded in 2005, has a brilliant range of gear and a warm-feeling shop.
With lots to pick from in a beautiful location, Cirencester is a great place for a skate trip with the gang and owner Gaz is always on had with friendly advice. 
Slugger - Sheffield
Life-long mates Louis and Martin created Slugger way back in 2008. Since then, they've kept on top of everything skateboarding, putting Sheffield on the map and providing top brands to the scene. A cool feature of Slugger is their mystery boxes, where you get 2 or more items for a discounted price, but you won't know what they are until you open the box!
Again, Slugger front a beautiful website full of goods. They are another skater-owned independent that you should add to your skate shop bucket list and browsing list when looking for a new board or tee.
Forty Two - Nottingham
Nottingham has some neat spots and parks. If you and the homies are heading down Flo Skatepark on a rainy day, don't forget to side mission to Forty Two and pick something up. Everyone involved with Forty Two is passionate about skating, and you feel it when you walk in. Embedded in skate culture, Forty Two are always keen to give you a freebee with a purchase and also do a student-friendly 10% off, so bring your student ID.
Slam City Skates - London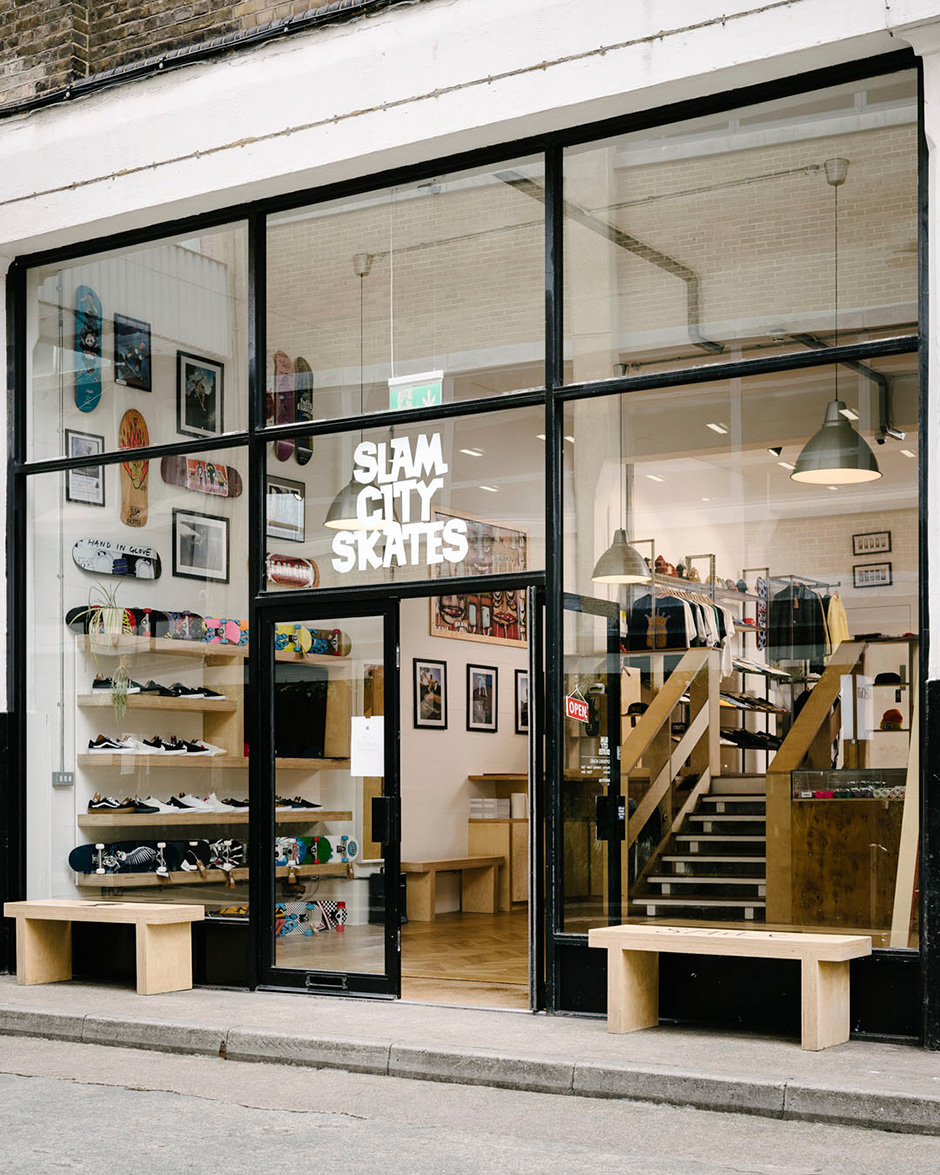 Slam City Skates is a veteran shop, with their doors first opening in 1986, when there was only a handful of skate shops in the UK. It was opened by freestyle skater Paul Sunman after realising there was nowhere in London to buy boards, even though the scene was blooming at a fast pace.
Now the shop and London one in each other. After moving around London slightly over the years, they are cemented as a skateboarding capital within the capital, keeping the southerners happy for over 35 years. 
Illicit - Kettering
Illicit is another growing independent skate shop stocking a range of European & International brands. Opened in 2018, they're around the same age as ourselves. We know the struggles of building a skate shop in this day and age and give them props for the success, it's hard work! 
Illicit is a sick skater-owned shop with a huge future, check that space to watch it grow. They've recently moved to a new shop, if you're around Kettering, go say wagwarn!
Skate Shops are Important!
Just as we appreciate every one of you guys that checks us out, and even anyone who skateboards in the UK, we have the upmost respect for independent skater-owned shops across the country.
For the sake of the community, culture and safe spaces that skate shops are for young and older skateboarders, buy from your local shop. If you're in a new area, check their local shop and show some love. Skate shops are important and more importantly, fun and exciting. It's where the story begins...
If you haven't checked us out yet, we have a massive supply of skate hardware and apparel to feast upon. Check out our latest arrivals here
Thanks for your time, peace!
|
Posted on March 27 2023